HEY EVERYONE!!!
How have you been?! I have been great!!
These past few days I have been spending time with friends visiting and the hubby! We did a lot of great stuff this week so lets just get right to it! Here is recap of our adventures for the past few days…
Serendipity
Tuesday night we all went out to Serendipity's, which is a famous hot-spot here in NYC..I am sure you have heard of it if you have watched Oprah
And of course, we ordered their famous frozen hot chocolate…
Frozen Hot Chocolate
The hubby and I shared this delicious dessert…
It was definitely very tasty!!
After that the hubby and my friend Jesse wanted to hit up the famous candy store…
Dylan's Candy Bar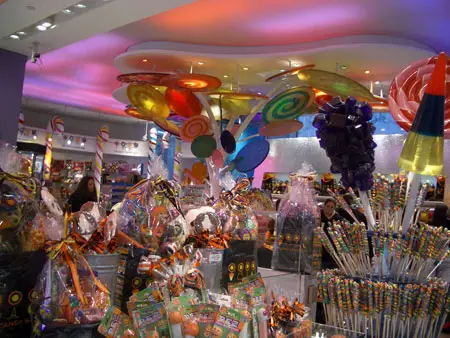 Here is the hubby getting some good pickings…He was excited!
It was a super fun night with everyone!!!
Yesterday the hubby and I spent the day together, it was gorgeous!
Nearly 80 degrees in NYC, so we definitely took advantage of the day and headed to Battery Park.
Battery Park
We decided to take the boat tour around Lady Liberty and Elli's Island!
After the tour we picked up some NYC Nuts from the street vendors, AMAZING!
If you ever come here, please try them, they are sooooo delicious.
After that…we walked from the shoreline at Battery Park to Tribeca where we stopped for lunch.
Sarabeth's for Lunch
I ordered the portabella sandwich with home-made fresh chips.
It was super yummy, especially the fresh chips! I finished about half the meal and the hubby had the left-overs for dinner.
After lunch we decide to walk all the way home and stop by Magnolia's Bakery. We tried to go there the other day, but the line was out the door..so we decided today would be a perfect work day to stop by because it most likely wouldn't be as crowded. We were right!
Magnolia's Bakery
Peanut Butter and Jelly for me. Red Velvet for him.
Perfect ending to a perfect day with my main man!
Oh. And an awesome highlight of the day…Celeberity sighting on our walk home!
January Jones. 
It was pretty exciting and there loads of paparazzi!
Any who, hope you have been doing great and happy friday!!